Independent Living at Aldersly
Leave the hassles of homeowner maintenance and daily chores behind! At Aldersly independent living, you'll enjoy the freedom to live your best life every day in a cozy, comfortable, and connected community, with a wide variety of premier services and amenities, boundless opportunities for friendship, and a whole range of engaging activities.
And now, we're excited to be able to share our unique and welcoming culture of hygge with even more seniors in the San Rafael area with our upcoming Marselisborg expansion that will feature 35 premier independent living residences.
Contact Our Team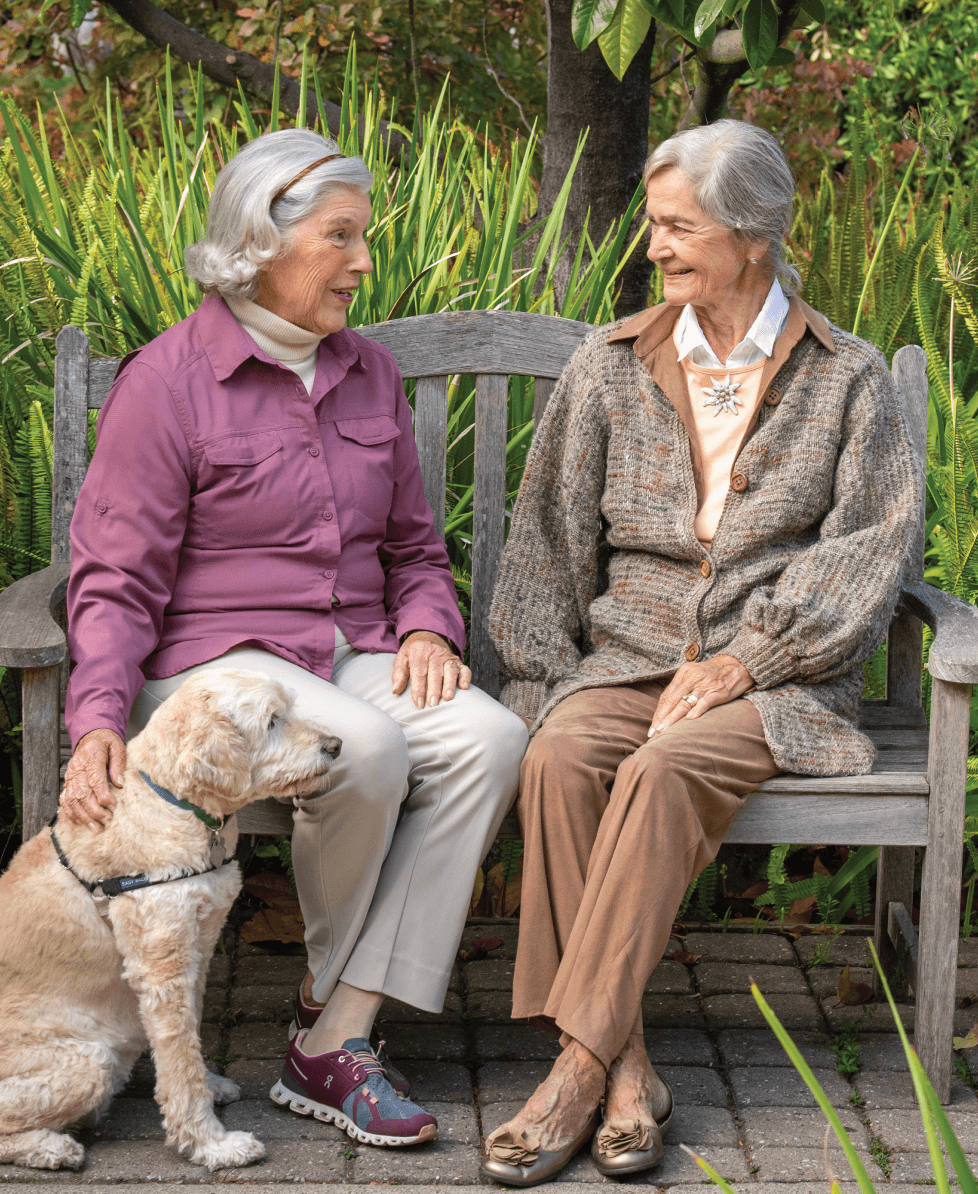 ---
Community Life
Exercise your body, stimulate your mind, pursue your passions, have some fun! There's always something happening at Aldersly!
Outings to local shopping, restaurants, and cultural destinations.
Educational lectures about art and history.
Entertainment from local performers.
Fitness classes.
Bocce and corn hole.
Book club.
Art classes.
Bridge and card playing clubs.
Spiritual and meditation services.
Distinctive Dining
At Aldersly, dining is more than just a meal. It's among the many ways we foster community and celebrate good company and wonderful conversation.
In our main dining room, you'll take in the gorgeous view of Mt. Tam while enjoying full-service, restaurant-style dining from a chef-inspired menu freshly prepared by our experienced culinary team.
Breakfast, lunch and dinner are served every day, with thoughtfully crafted specials, a soup of the day, delicious desserts, and a selection of "always available" favorites. Because we offer individualized dining choices, you can request modifications, so you can enjoy your favorite dishes while still adhering to your dietary guidelines.
Sample Dining Menu PDF
Frequently Asked Questions
An independent living community is the perfect place for active elders who desire the total freedom of a carefree retirement lifestyle. Home maintenance and yard work become a thing of the past, and the community provides a wide range of services and amenities—including dining, a full calendar of social opportunities that provide an opportunity to meet new friends and neighbors, transportation, housekeeping, health and wellness activities, security, and more—so residents can truly live the lives they want to live.
Yes! At Aldersly, you always have choice, flexibility, and control over everything you do. You'll have the freedom to stay connected to the area and be close to the ones you love, while at the same time enjoying all the advantages of residing in a friendly and welcoming senior living community that nourishes your well-being and supports the interests and passions that bring meaning to your life.
Sometimes people think that moving into a retirement community means they'll have to give up things they find valuable. The truth is, the only things you'll be giving up are the things that slow you down, hold you back, and keep you from living your very best retirement life. Aldersly offers a wide variety of premier services and amenities—lawn care; grounds maintenance; complete maintenance of your senior apartment residence and/or home; chef-inspired, restaurant style dining; a full calendar of social, recreational and educational activities; health and fitness opportunities; transportation; round-the-clock staffing; and lots more. Not to mention, it's just a wonderful place to be! Ask the residents of Aldersly, and we're pretty sure they'll tell you, moving into this retirement community was one of the best decisions they ever made.
Yes! Aldersly is a pet-friendly community. We know that you love your pets. They're members of your family, and here, family is always welcome!
At Aldersly, the care and health of those we serve and the wellbeing of our team members are our highest priority at all times. We are taking aggressive prevention and preparedness steps related to coronavirus/COVID-19. Read more about our Covid-19 response here.

"I lived up the road for years and when I would be outside gardening, people would stop by and chat. I would point toward Aldersly and say 'That is where I want to grow old!'"

Aldersly Resident

"What we love ... the staff are over-the-top friendly, helpful and attentive. Beautiful dining room with wonderful restaurant-style dining. Activities and celebrations happen regularly from bocce ball to rummikub, parades, outdoor cookouts, movie nights, etc. There are so many beautiful places to walk within the neighborhood. We could not be happier! Thank You Aldersly!"

Aldersly Testimonial

"I love living at Aldersly. They like to have fun and make us feel special!"

Aldersly Testimonial
We'd Love to Hear From You!
If you would like to learn more about becoming a member of the team at Aldersly, please feel free to reach out. We're always here to answer any questions you may have!
Contact Our Team